NEW
New Approach to Care Leaver Records
'Access to Records by Forgotten Australians and Former Child Migrants: Access Principles for Records Holders and Best Practice Guidelines in providing access to records' (Principles and Guidelines) June 2015.
This new Australian government publication, long in the development stage, has finally been made available to the public including to Care Leavers who are the subjects of the records held in archives throughout Australia.
'The document was developed by a private agency, Recordkeeping Innovation, for the Department of Social Services (DSS), in consultation with two stakeholder groups:
a Records Access Working Group and
the Find and Connect Advisory Group. 
These groups included members from the Find and Connect Support Services, representative organisations and state and territory governments.  Both groups endorsed the final Principles and Guidelines in July 2015 – though it would be fair to say that not all members consulted were happy with the document in its totality.   
When I find time, I will give my own personal take on the document.
According to the introductory summary:
The Principles and Guidelines address three recommendations made by the Senate report, Forgotten Australians: A report on Australians who experienced institutional or out-of-home care as children August 2004 (Senate Inquiry), in particular:  
supporting government and non-government agencies to agree on how care leavers, upon proof of identity only, can view all information relating to themselves and receive a full copy of such documents
records being provided free of charge, and
compassionate interpretation of legislation to allow information to be released to enable care leavers to identify their family and background.
The Department and the Advisory Group are working towards assisting state and territory governments and service providers to implement records access practices in a nationally consistent manner.  
You can download the Principles and Guidelines here.
♣♣♣
Redress Book a Winner
I am pleased to relay the great news that  Professor Kathleen Daly has won the  Christine M Alder Book Prize, a prestigious award, for her book Redressing Institutional Abuse of Children (Palgrave Macmillan, 2014).
The book is mentioned frequently in the Victorian Government's Consultation Paper on Redress. Professor Daly has also been assisting the Royal Commission on Child Sexual Abuse. 
The Christine M Alder Book Prize is awarded biennially for an outstanding monograph or book which, in the opinion of the judges, has made a valuable and outstanding contribution to criminology.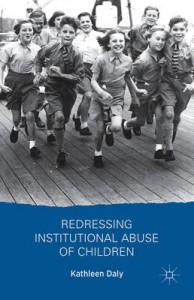 ♣♣♣
Another Report '"…as a good parent would…"
The Commission for Children and Young People in Victoria had just released this report subtitled Inquiry into the the adequacy of the provision of residential care services to Victorian children and young people who have been subject to sexual abuse or sexual exploitation whilst residing in residential care.
The title comes from section 173 of the Children, Youth and Families Act 2005 which requires that DHS (the Department of Human Sevices–known  in the trade as the Department of Human Sacrifices) 
must make provision for the physical, intellectual, emotional and spiritual development of the child in the same was as a good parent would.
This is a variation of a clause that is found in the Victorian Social Welfare Act of 1960 (s 24). Do child welfare promises ever really change?
Promises are one thing. Treating kids well is altogether another thing. It is abundantly clear from the tragic evidence that the State of Victoria remains a very bad corporate parent. Not only are children sexually abused and exploited on a routine basis, DHS ought to have known.
More than that: the residential system houses children and adolescents in appalling conditions, where they lose contact with family and community, drop out of school, develop mental health problems, engage in substance abuse, are bullied and intimidated. 
These are hardly the outcomes of a good parent. It is little wonder that when they 'age out' of the residential system, a high proportion of these young people join the ranks of the homeless, the unemployment queues–and worse. A good parent would hang their head in shame.
The system is totally broken and no amount of further tinkering will fix it. But don't hold your breath…I fully expect this report will join scores of other reports on Ministerial bookshelves to be rediscovered in the decades to come when there is another moral panic with the re-discovery of child sexual abuse of children in the so-called 'care' of the State.
You can read the report here.
♣♣♣
Australian Royal Commission on the Handling of Child Sexual Abuse
The Commission continues to release reports on Case Studies – see the latest media release here.
The two latest reports concern the Catholic church's  Towards Healing (so-called) protocol:
The experiences of four survivors with the Towards Healing process' and
Mr John Ellis's experience of the Towards Healing process and civil litigation'.
These two case studies are highly critical of Towards Healing  – and in the Ellis case, of Cardinal Pell.
The reports highlight a number of issues about redress, including "the role an institution should play in assessing complaints of conduct by those associated with the institution, transparency and review processes, reparation and the role of pastoral care".
Cardinal Pell's position at the end of the hearings is summed up:
He agreed that the Church has a

moral responsibility

for child sexual abuse that occurs within the Church.
He would like to see

an independent body

set up to investigate complaints of child sexual abuse, which would recommend

compensation but not damages

.
The proper moral response would be to

revisit the amounts paid

under Towards Healing.

The Church should be able to be sued in cases

of child sexual abuse. The Church should set up a body would appoint and supervise people 'so that the successors, if God forbid there were any after Mr Ellis, would have somebody to sue'.
What a chastening experience for the Cardinal – and indeed the whole church.  You have to wonder whether it can ever restore its reputation.
♣♣♣
The British Inquiry
The debate in the House of Commons (4 February 2015) can be read here.
GETTING THEIR ACT TOGETHER? (5 February 2015)
Finally, the British Home Secretary (Mrs May – or as some would have it, Mrs MayNot) has found someone to chair the inquiry into the cover-up of child sexual abuse.
New Zealand High Court Judge Lowell Goddard comments: "I come, I suppose, as a fresh face." And from a long way away from London where, it is implied, no one could be found who could be regarded as sufficiently removed from the network of corruption in high places.
The Home Secretary was quoted as saying that Justice Goddard was "as removed as possible from the organisations and institutions that might become the focus of the inquiry." Not only that, she has experience of heading up an inquiry into child sexual abuse in New Zealand.
But wait there's more: the Home Secretary sacked the panel she appointed to assist the Inquiry and a new panel will be created. 
And even more: the BBC has published a list of around a dozen ongoing investigations and inquiries into historical abuse allegations in institutions around the UK.
See the list here.
Stand by!
♣♣♣
YET ANOTHER UPDATE (22 January 2015)
IS THERE NO END TO THIS FIASCO?
Let's sum up:
In July 2014, Theresa May, the British Home Secretary

announces an inquiry

 into whether there had been a cover-up of allegations of child sexual abuse.

She appoints a Chair

who resigns because of perceived conflict of interest.

She appoints a second person as Chair

but that person resigns as well for the same reason.

An Inquiry  Panel is appointed

to  do preliminary work for the inquiry, but the Home Secretary reveals in December that

she might stand down the panel in favour of another approach

.
The panel members this week announce they are 

stopping all work until the Home Secretary makes up her mind

about their future and the possible appointment of a third Chair. 
Meanwhile, a member of the Panel

accuses the Inquiry lawyer of bullying and intimidation

.  He, in turn, accuses her of

leaking confidential information

.
The other members of the stop all work Panel

back the Inquiry's lawyer

. Read all about it (well some of it)  

here

.
Ealing Studios could not have produced a better farce.  Meanwhile, does anyone in the British Government care about the victims and survivors of the sexual abuse?
♣♣♣
A SHORT HISTORY OF VIDEOGAMES
The first of four radio presentations on the history of video games ran on Saturday, 3rd January on the ABC's Radio National program.  The others in the series follow. Worth spending the time listening to intelligent discussion of this emergent art form.
More detail here.
Declaration of interest: the presenter is my son, Daniel Golding, journalist, academic and media critic.
♣♣♣
CHILD SEXUAL EXPLOITATION RIFE IN THE UK
In the dying days of 2014 as part of Family Law Week, Heather Popley, a barrister at No 5 Chambers, published a damning commentary on the high incidence of Child Sexual Exploitation within the UK.
Ms Popley  referenced  six very recent reports:
These reports, among other things, demonstrate an increasing awareness, both professional and public, of the damage that sexual exploitation inflicts upon children and vulnerable young adults.
Ms Popley points to a fact known for decades: the impact of sexual exploitation is not restricted to childhood and adolescence; "there can be lasting consequences throughout the victims' lives".
The question in my mind is: why has it taken so long for this level of awareness to emerge?  Is it because:
The whistle has finally been blown on the the cover-ups that have  characterised these crimes? Or

The irresistible appeal to the media of accusations against high profile figures? Or 

The snowball effect of disclosures (in the UK and in many other western countries) means that survivors can feel more confident that they will be believed and the voices of victims and their advocates are now being heard? Or

Some combination of explanations?
The Popley commentary can be found here.
♣♣♣
Scottish Inquiry Finally Announced
After a long period of procrastination, indecision or thoughtful uncertainty – take your pick – the Scottish Government has finally decided to hold a national inquiry into "historic child sexual abuse".
The full terms of reference and appointments for the inquiry will be confirmed by the end of April, following consultation with survivors of abuse.  Arrangements for meetings with survivors will begin in January.
More here
♣♣♣
UPDATE (20 December 2014)
Australian Royal Commission into Child Sexual Abuse
In an end-of-the-year report for 2014, the Royal Commission states that it
conducted

17 public hearings

,
held over

1,700 private sessions

, and
"further progressed our work in research and policy" [a number of important research reports were released]
received

9,883 calls

to the call centre,
received more than 5,000 emails and letters, and
served

796 notices

to produce documents.
The Royal Commission call centre remains open during the holiday season, with the exception of public holidays, and can be contacted on 1800 099 340 Monday – Friday between 8am – 8pm AEDT.
More here
♣♣♣
ANOTHER UPDATE (20 December 2014)
Still British Home Secretary procrastinates – while the Guardian recommends the Australian Royal Commission as a model
Mrs May is "considering giving the inquiry extra powers, extending its terms of reference and rolling back the period it examines from the 1970s to the 50s".  But nothing is decided and she still can't find a reputable Chair. Read more here
Child Abuse in the UK
Another Delaying Tactic? How long do survivors have to wait?
"investigating the cost of" – a weasel phrase?   Read more
NEW (AGAIN!)
♣♣♣
Child Abuse Cover-up Inquiry UK
ANOTHER UPDATE   (5 November 2014)
Can't find someone who isn't tainted?
The British Home Secretary, Mrs Theresa May, told the House of Commons: "Almost four months after my intention to establish a panel it is obviously very disappointing that we do not yet have a panel chairman and for that I want to tell survivors that I am sorry.
"It will not be straightforward to find a chairman that has the expertise to do this hugely important work and has had no contact at all with an institution or individual about whom people have concerns."
UPDATE (2 November 2014)
Another Head Rolls. What is that stench that's polluting the air? The smell of rotting MPs?
What is it with this government? Now the replacement head of the inquiry will have to be replaced. Read More
Interestingly the pressure came for victims/survivors.  Good for them!
UPDATE (22 October 2014)
The controversy will not die down: Read more
UPDATE  (8 September) Child Abuse Cover-up in the UK
Lord Mayor of London Fiona Woolf replaces Baroness Butler-Sloss as inquiry head. Read more here.
On  8 July 2014, Theresa May, the British Home Secretary announced a wide-ranging inquiry into whether public bodies "did enough to investigate child abuse claims in the past" (code for an establishment cover up).  She appointed Baroness Butler=-Sloss to lead the inquiry which would  "consider whether public bodies – and other non-state institutions – have taken seriously their duty of care to protect children from sexual abuse".
15 July Baroness Butler-Sloss quit after it was revealed that her brother, Michael Havers, was Attorney-General in the Cabinet 1979-87 and that he allegedly tried to stop paedophile allegations being aired in Parliament.  The Tory  Home Secretary Theresa May claimed she did not know about these allegations. Ex-Judge Baroness Butler-Sloss says she did not 'sufficiently consider' her family background when accepting the position. Read more here
Let's hope the government can get it right this time.

UPDATE: they didn't.
♣♣♣
The History of Child Welfare in Australia in Three Easy Steps
The Royal Commission into Institutional Responses to Child Sexual Abuse has just released three research papers by Prof Shurlee Swain of the Australian Catholic University:
History of Child Protection Legislation in Australia
History of Institutions Providing Out-of-home Care to Children
History of of Australian Inquiries Reviewing Institutions Providing Care for Children
For those who are not familiar with the history of the Australian child welfare 'system', the three papers are an accessible gateway.
These excellent papers can be read and downloaded along with other commissioned research here
On my blog page – Matters of Opinion – I will post some comments about each paper over the coming days.
♣♣♣
Improving the Quality of Children's Homes in Britain
The British authorities are seeking views on revisions to the Children's Homes Regulations with:
new quality standards regulations
administrative and management regulations
a guide to the regulations that would replace the current national minimum standards for children's homes
The consultation applies to:
providers, managers and staff of children's residential care services
local authorities
social workers
voluntary sector children's organisations
children in care
care leavers
representative bodies
An impact assessment on children's homes quality standards is also available.
♣♣♣
Orphanage and Welfare Museums in other countries
The Danish Welfare Museum at Svendborg in Denmark
Extracts from a letter to curators of the Workhouse Museums in Britain and Ireland from Peter Higginbotham after he visited the Danish Museum on 11 April 2010
The building, erected in 1872, was Denmark's last operational workhouse, finally closing in 1974.
There are remarkable parallels between the English and Danish poor-law systems and also between their institutional buildings. The Svendborg workhouse, one of 450 in Denmark, as well as segregating males and females, had sections for the "deserving" poor (the elderly, chronic sick, etc.) and the "undeserving" poor (the able-bodied, vagrants, alcoholics, etc.). It also provided accommodation for homeless families. The able-bodied were required to perform work such stone-breaking and wood-chopping. There were also workshops were mat-weaving and the pasting of paper bags etc. were carried out. The workhouse had its own garden where inmates grew vegetables etc. and where pigs were kept. There was a comprehensive list of workhouse rules, a strict dietary, and a refractory cell for rule-breakers.
The workhouse building is now wonderfully preserved with an amazing number of original features… even a substantial collection of inmates' clothing. Whole rooms are fully furnished more or less as they were half a century ago, including an inmates' day room and the master's bedroom… a stunning collection of artefacts from other workhouses across Denmark including much material on poor-law children's homes/orphanages and their archives which are the subject of a major ongoing exhibition ("You must not think of your father or mother")… Particularly moving is a door rescued from one former children's home on which, amongst other scratched graffiti, is the word "MOTHER".
Read more about the Danish Welfare Museum here. 
♣♣♣
British Orphanages in History
Here, at www.childrenshomes.org.uk, you can find comprehensive information on institutions that housed thousands of children and young people in Britain:
Orphanages
Homes for those in poverty
Homes for those with special needs
Reformatories
Industrial and Approved Schools,
Training ships, and
Hostels.
The site gives details of each home's location and history with hundreds of historic images of the buildings and their inmates.
For more about British workhouses go here.
♣♣♣
FREEPLAY a wonderful site for gamers. Located in Melbourne, Freeplay is Australia's largest and longest-running independent games festival. It draws together Australia's independent game community – players, makers, critics, artists, academics, and students –  at its conference, public events program, arcade, and awards. The Freeplay Festival is a critical celebration of the artistry of games and digital culture. More about Freeplay.
♣♣♣
UK Care Leaver – transition to adulthood statutory guidance and regulations updated May 2014.
This is aimed at agencies responsible  planning for the transition of  "looked-after children" from ten age of 16 or 17 as they move towards independent adulthood.
The requirements are based on the principle that: "Care leavers should expect the same level of care and support that others would expect from a reasonable parent."  And so it carries through till the young person reaches 25 years of age.
In working out a transition to adulthood plan, the key questions the authorities should ask include:
Is this good enough for my own child?
How can I provide a second chance if things don't go as expected
Is this plan tailored to their individual needs, particularly if they are more vulnerable than other young people?
This is a long way from the bad old days when, as soon as we were old enough to et a job,  we were given a change of clothes wrapped in a flimsy package and sent on our way.
Download the document here.
♣♣♣
Creating Parity: The Forest Review, launched 1 August 2014
"…the disparity resulting from the large proportion of Indigenous Australians who are disengaged from the workforce has reached crisis levels—hence this report…
"Seismic, not incremental, change is required and the time for action is now. These solutions are not expensive and parity is completely achievable with the strength of will from each of us."  Download
♣♣♣
British Home Children who died in the First World War  An initial listing has been compiled of 966 British Home Children  raised in Canada and identified as having died in or as a result of the First World War.  (In Australia we call them Child Migrants.)
A plaque bearing the 966  names will be unveiled in Toronto  on July 28th .  It is hoped to include service details and photos. The list is here.
♣♣♣
The Royal Commission into Institutional Responses to Child Sexual Abuse is investigating how institutions like schools, churches, sports clubs and government organisations have responded to allegations and instances of child sexual abuse. View the Commission's website here.
Download the Interim Report of the Royal Commission
UPDATE:  See the 78 written submissions to the Royal Commission on the issue of redress.
♣♣♣
Betrayal of Trust is the report of the Victorian Parliamentary Committee Inquiry into the Handling of Child Abuse and Other Non-Government Organisations published in November 2013 (2 volumes). The Victorian Government's response to the recommendations of the Report can be found here
♣♣♣
National Summit early 2015:  'Setting the Record Straight: For the Rights of the Child'  will be an important first step in reforming the way we capture, manage, access and archive records of children in 'care' to meet their current and future needs. Organised by Monash Univerity and the University of Melbourne. More detail will be posted as planning develops.
♣♣♣
The Republic of Ireland will now examine the past treatment of unmarried mothers by investigating the Homes  for children born outside marriage and their mothers. Australians will recognise the issues the commission of inquiry may look at:
* The high mortality rates in mother-and-baby Homes:
* The circumstances and location of the burial of babies who died in the Homes
* The use of infants in clinical drugs trials at some Homes
* The number and manner of adoptions from the Homes
Read more here: