NEW
From the Ballarat Star (31/1/1865):  VAGRANCY. – John Edward Synnett, a little boy about eleven years of age, was charged by his step-father with vagrancy. The case was remanded for a week, in order that it might be ascertained what amount would be charged for his maintenance in the Reformatory. 
This is the little runaway boy mentioned in the Geelong Advertiser  March 1862 three years earlier.
Under the Neglected & Criminal  Children's Act (section 13 (v)), Edward was sent to various reformatories including the Nelson, a hulk moored near what is now Williamstown.
Other family members were incarcerated in the Ballarat Orphanage before me. My mother's sister Joyce Sinnett was sent to  the Orphanage in in 1926 and died there in 1933 aged 12.
She shared a common grave with 25 other children who also died while inmates. Recently Child & Family Services (CAFS) Ballarat did the decent thing and gave them names and dates.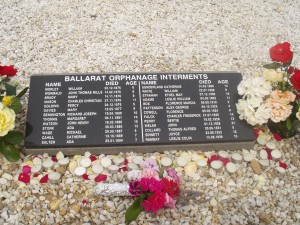 Another of my mother's sisters, Minnie, was sent to the Orphanage by foster parents in 1929. She did not know that Joyce Sinnett was her sister. Later, Minnie was sent to the Oakleigh Reformatory for Girls (pictured – but now the site of Chadstone Shopping Centre car park).