Published books and articles are listed on the following pages.
FORTHCOMING
That's Not My Child: A family at war – a prequel to the successful An Orphan's Escape: memories of a lost childhood (Lothian 2005).
Synopsis – story line & themes
Searching for my missing grandfather, I find much more than I expected: a war story which starts with enthusiasm and ends in disillusionment, a love story that ends in betrayal and, remarkably, my family's five-generations' war with the welfare system–and with itself.
In the book I track down more than 30 children in my extended family who were to become institutionalised.
It begins in 1865 when Edward Sinnett, aged 11, is sentenced to five years on a prison hulk at the behest of his parents (the runaway mentioned above). His harsh encounter with "the welfare" will spawn a family at war for the next 100 years.
One pound Reward:  A telling advertisement in the Geelong Advertiser  March 1862. What value is a runaway boy compared with a lost horse? Why would an 8-year old run away from home anyway? Why the reward?
That's Not My Child, the book, follows the children of the young prisoner – especially Billy Sinnett (my missing grandfather) and his new bride Permella. Wounded at Gallipoli and the Somme, Billy comes home disillusioned with war only to be confronted by Permella's betrayal. The soldier-father cannot make peace at home and uses a string of children to exact revenge.
Permella's war is not in the trenches of the Western Front; but her battles are no less destructive. If Billy's darkest moment is being buried alive at the Somme, hers is finding that she will never be forgiven for a moment of infidelity. For that she eventually loses everything: the man she loves, five children, and the hope of a life fulfilled.
The pattern is repeated through the Great Depression and the 2nd World War. My brothers and I also become casualties of our family's struggles in the face of the system's determination to cast our parents as undeserving. Finally, Queen Elizabeth and Walter Lindrum help rescue me from the welfare treadmill.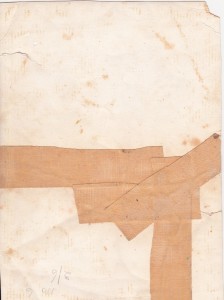 Bill on the left, our mother, me and Bob on the right and our father in his army uniform (probably mid 1941). This is the only photo of the family – and it only just survived one of the many crises. Our mother ripped it up in a rage but then patched it up (literally). In 2005 it became the cover of An Orphan's Escape.