A very interesting article on the Find & Connect blog about memorials around Australia to remember children who grew up in orphanages, children's Home, and other institutions and in foster 'care'. (Read it here) 
This blog post  raises again the issue I've written about before: is the label 'Forgotten Australians' any longer appropriate? Isn't there an inherent contradiction being played out with memorials for forgotten people?
Consider these quotes from the various plaques:
"For there is nothing hidden, except that it should be made known, neither was anything made secret out that it should come to light." (Queensland).
"We remember the lonely, the frightened, the lost, the abused…" (NSW)
"To those who succumbed to harsh punishments meted out by a severe system we remember you." (Tasmania)
"Here we remember those thousands of children who were separated from their families…" (Victoria)
"This memorial brings the "Forgotten Australians" out of the shadows and into the light. Their most enduring legacy will be that the people now and in the future will know their stories and build upon them a platform for better care."
"We are no longer forgotten." (SA)
Does the last quote cap it off? How long can we go on calling ourselves 'Forgotten'?
If you want better descriptions for these former residents of institutions, you need look no further than the plaques themselves.
On the inscriptions I find words like 'lonely', "neglected', 'frightened' or 'abused'. Looking for more positive or self-assertive attributes, on the inscriptions  I find words like 'determination', 'courage', 'strength', and 'resilience'.
Is it time for a re-think by those who still call us 'Forgotten Australians'?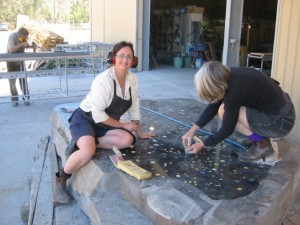 (Photos Frank Golding)