CHILDREN'S BODIES BURIED AT THE OLD BALLARAT ORPHANAGE?  (17 April 2015)
For the past few days, Victoria Police have been digging up the grounds of the former Ballarat orphanage – where I grew up between the ages of 4 and 15.
The  Police  worked  with the coroner, forensic scientists and the state government to investigate the allegations.
They were acting on information that children may have been buried on the grounds of the former Orphanage. A media release said: "The investigation relates to alleged activities that may have occurred whilst the orphanage was operational, prior to its closure in 1968."
The allegations were first raised in 2012 by former orphanage residents, Phylis Read and her sister Edith Orr, at Ballarat City Council meetings discussing redevelopment plans for the large and abandoned site, once Crown land but now owned by private developers.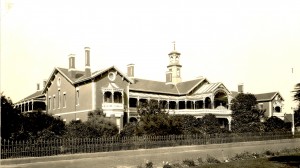 Media frenzy
The Orphanage has been associated with litigation  around sexual and physical abuse for which compensation claims have been  settled.  
The cocktail of sexual abuse, violence and the "mysterious disappearance"  of children soon had the media in a frenzy. As a former resident who has written a book about growing up in the place, and as Vice-President of Care Leavers Australasia Network (CLAN) I was inundated with media inquiries and requests for interviews. 
I did what I could to meet these requests: in the space of 24 hours I did interviews with
three TV stations (one of them on two different programs),
four radio stations, and
two newspapers; and
had an email exchange with a journalist from New York. 
There were other calls I just simply could not return – the CLAN office and my lovely wife did their best as press advisors, but sometimes you just can't manage it all.
Brickbats to one newspaper reporter who more or less demanded that I hand over the names of all the children buried there.  Just wouldn't accept that until the investigation was completed we did not know if there were any bodies, let alone the names.
A few reporters confused the facts. The Ballarat Orphanage was not run by nuns – it was non-denominational.  And Damascus (which occupied the site after the Orphanage closed) was a secondary college not a university. 
Bouquets to the TV channel who sent people to check that I was OK and expressed their sincere concern for any families that might be touched.
Looking for answers to questions that had to be asked
The real issue here was getting to the truth of the central question. Were there any bodies buried on the site? If so, other questions would then need to be answered: How did they die? Who was responsible? Were criminal acts committed? Why were they buried on site? Was there a cover-up of dastardly deeds?
We know that children did die in this Orphanage. In 1933, my mother's 12 year old sister, Joyce Sinnett, was buried in a common grave along with 25 other children from the Orphanage. 
Although the grave remained neglected for many years, in 2008 a search of records enabled a headstone to be erected with all the children's names and dates of death. Recently a group of former inmates visited the cemetery again and placed flowers on the grave.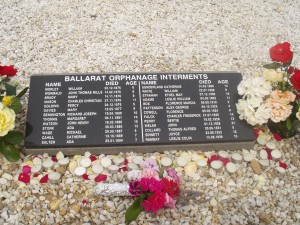 The answer revealed at last
Today, the Police have declared that the search is officially over. No bodies were found. The overwhelming feeling is relief.  No bodies were found. The search has ceased. The claims have been addressed and found to have no substance.  
And gratitude that the claim has been taken seriously by the proper authorities and investigated carefully, and with due respect. 
This is the way all allegations of this sort should be treated. Some might say, as they did, that it was a waste of time and resources, that the original claim was absurd. Others will ask why it took so long for the authorities to act.
But, in the end, what matters now is that an awful  suspicion that has hung in the air for too long has been resolved and people's worst fears have been laid to rest. 
♦♦♦
On my page Writing (previously called Publications) I have kept the separate sub-pages Books and Chapters and Articles.
In addition, I have created a new sub-page where I will publish what I call Work in Progress.  This is meant to be for my writing that is a bit longer than a normal blog piece (which I will publish here as usual) or writing that, after feedback from readers,  I might work up into something to publish formally.
The first piece called 'Remembering through the pain',  an essay in photo-journalism following my recent trip to Sweden and other countries,  is available now at  http://frankgolding.com/publications/work-in-progress/
Please feel free to send me any comments.
SEE ALSO OTHER POSTS ON SIDE BAR TO THE LEFT
Key points from my submission to the Royal Commission on Child Sexual Abuse:
 A national redress scheme to which all governments, major churches and relevant non-government organisations contribute equitably is among the most important outcomes that this Royal Commission could give rise to.
Written evidence should not be expected in every case; many cases were not reported at the time, and records have been "lost" or destroyed.
You do not have to have been raped or sexually assaulted to have been profoundly affected by sexual activity in children's institutions.
There is a strong connection between sexual abuse and violence which is often underestimated. While the phenomenon of grooming is increasingly well understood, its counterpart of violence and naked abuse of power is not.
The same fear, humiliation and intimidation that enabled abuse to take place also served as a mechanism by which information about abuse was suppressed.
The sexualised environment of children's Homes contributed to the high incidence of abuse.
It would be a profound disappointment to many who were abused in institutions if a "sexual abuse" only redress scheme were introduced given that existing redress schemes in Australia and overseas have already paid compensation – as they should – for other serious forms of abuse and neglect.
To read my full submission click here
To read any of the other 77 submissions click
here
.
ABC News 9 July 2014: Human Rights Commission president Gillian Triggs has confirmed that 10 women have tried to kill themselves at the Christmas Island detention centre. This was their way of trying to get their children out of detention and to have a better life. In response the Prime Minister, Tony Abbott, says his government will not be held "over a moral barrel" by the attempted suicide of people being held in detention. I find it extraordinary that Mr Abbott would use a moral argument to justify immoral policy and practice.
In a report of an interview, the Pope acknowledged that paedophilia was common and widespread in the Catholic Church, and reportedly called the requirement for celibacy among priests 'a problem' for which he is 'finding the solution' – although the Vatican also denied that he said this.   Read more: