NEW
I am honoured to announce that Federation University in Victoria has appointed me an Honorary Research Fellow from January 2017.
♣♣♣
The city of Ballarat has awarded first prize for 2016 to the re-created Ballarat Orphanage Avenue of Honour. See details here.
♣♣♣
Forthcoming Presentations
25 September 2017: Presentation to ASA Reference, Access and Public Programs special interest group
Recent Presentations
25 July 2017: 'Lost and Found: State Children in Australia', Hotham History Project, North Melbourne Library (to be repeated at Adoption & Permanent Care Group on 4 September.
19 May 2017: Capturing the Record – Building a storehouse of hope, Presentation at the Records Management Network Meeting, Melbourne.
8 May 2017: Panel Presenter at the National Summit: Setting the Record Straight, Federation Square, Melbourne
20 April 2017: Sexual Abuse- The core transgression of childhood innocence, Academy of Social Sciences in Australia and La Trobe University, Workshop on the Royal Commission into Institutional Responses to Child Sexual Abuse: Institutional Cultures, Policy Frameworks and Social Change.
3 April 2017: Presentation to Prof Sue McKemmish class Monash University: Why personal records matter.
31 March 2017: Appearance at the Royal Commission Public Hearing giving evidence on Vicarious Abuse, Sydney.
17 February 2017: Research that Connects: A tribute to Shurlee Swain, Australian Catholic University, Melbourne.
12-13 December 2016: 'Lost and found: reconstructing a family at war', Australasian Society for the History of Children and Youth symposium, at Deakin University.
10-11 November 2016: Was it all a waste of time? The failure of the proposal for financial redress by the Australian Royal Commission into the Handling of Child Sexual Abuse. A paper by Ass Prof Jacqueline Wilson & Frank Golding at the International Network on Studies of Inquiries into Child Abuse, Politics of Apology and Historical Representations of Children in Out-of home Care, Norrkoping, Sweden.
19-20 October 2016: Annual National Conference of the Australian Society of Archivists, Forging links: people, systems, archives, Parramatta, NSW: 'Towards a national summit setting the records straight for the rights of the child', Sue McKemmish, Barbara Reed, Bonney Djuric and Frank Golding, Moderator: Joanne Evans
Abstract
It is estimated that throughout the twentieth century around half a million Australian children were caught up in child welfare and protection systems, with a mountain of inquiries, research and government reports documenting the reverberations these experiences have on lives. Despite significant reforms in the sector over the past few decades, the latest statistics show a steady increase in the number of children receiving child protection services, with 40-50,000 children annually experiencing some form of out-of-home 'care'.
Children in 'care' today need recordkeeping systems in government, private sector and community organisations that underpin governance and accountability. Those systems must also support preventative strategies for abuse that aid detection, reporting, investigation and remedial action. Reliable records and information systems, are also critical to those people who have experienced 'care' in the past. These can support the search for identity and memory, facilitate family reconnections, provide evidence for accountability and redress purposes, and help to assert rights and pursue justice.
Yet people who have experienced 'care' – past and present – continue to be disadvantaged and, in some cases, traumatised by the failures of Australian recordkeeping and archival frameworks, systems, policies and practices. A proposed National Summit, 'Setting the Record Straight: For the Rights of the Child', in March 2017 is an important step in reforming the way we capture, manage, access and archive records of children in 'care' to meet current and future needs.
In this panel session we aim to give an update of the Summit planning and discuss the ways in which members of the ASA community may get involved. It will feature short presentations from panelists. This will be followed by a facilitated discussion on the need for activism and advocacy within the archival community to address the challenges.
10-11 November 2016: International Network on Studies of Inquiries into Child Abuse, Politics of Apology and Historical Representations of Children in Out-of home Care, Norrkoping, Sweden
'Was it all a waste of time? The failure of the financial redress proposal by the Australian Royal Commission into the Handling of Child Sexual Abuse', paper  by Assoc. Prof. Jacqueline Wilson & Frank Golding,
Abstract (subject to further development)
The Australian Royal Commission's final recommendations for a national independent redress scheme for survivors of child sexual abuse are apparently sunk: but was it all a waste of time? This paper analyses the reasons for this failure drawing on the public discourse among leading politicians at national and state/territory levels. In addition it examines the documented support for, and opposition to, the proposed scheme among churches, non-government agencies and support and advocacy groups noting shifts in attitude over time. The analysis argues that the Commission's terms of reference—sexual abuse only and an excessively broad definition of institutions—led inevitably to a fundamental dissonance between already existing or previous redress programs which rendered the proposal overly complex and politically unacceptable despite far-reaching support from stakeholders.
However, all is not lost. This paper will show that the Commission has amassed and made public a hitherto dispersed and often secretive database, forensically identifying the gaps, inconsistencies and failures of State-based and church-based redress schemes in Australia. Moreover, its politically sensitive work has stimulated the major churches and previously recalcitrant states, particularly the two most powerful, Victoria and New South Wales, to reconsider their previous positions and it is expected that even without a national independent redress scheme, significant improvements will be instituted in coming years. One example already evident is the progressive removal of legislative barriers to civil litigation and, more important to some victims, the referral of hundreds of apparent criminal cases to the justice system. Nevertheless, there will be casualties especially among Care Leavers who suffered other forms of abuse and neglect and will continue to be denied justice and struggle to have their voices heard in the face of gale-force outrage about child sexual abuse which is entrenched as 'the core transgression of childhood innocence' and society's 'ultimate collective shame'.
12-13 December, 2016: Australasian Society for the History of Children and Youth Symposium, (Re)Examining Historical Childhoods: Literary, Cultural, Social, Australian Catholic University, Melbourne
'Lost and found: reconstructing a family at war'. Abstract accepted
Conventional histories of children's institutions are dominated by the voices of officials, administrators, and agencies seemingly fixated on funding and facilities. With the demise of such institutions, their heritage was often reduced to bricks and mortar. In the process, the resident children separated from their families and community have been all but invisible. However, in Australia, as elsewhere, an outpouring of survivor testimony stimulated, and in turn was stimulated by, a chain of formal inquiries and a national sentiment of remorse ushering in an age of apologies. In this new age, the voices of survivors are now being heard with a force not heard in previous eras. The exposure of atrocious child abuse has rightly focussed attention on apologies and redress, but many survivors of institutional 'care' are equally intent on understanding why they were in 'care' and, where possible, reconnecting with lost or fragmented families. Many pinned their hopes on official records but discovered what was recorded is painful to read not only because of inaccuracies but also the negativity towards them and disparaging slander of their parents. In other cases the narrative is woefully inadequate with long gaps in time when nothing was recorded and an overall lack of crucial information. This paper presents a case study in which the author goes beyond such sources and uncovers a startling story of multi-generational custody in welfare facilities. In doing so, he illustrates the historic ideology underpinning child welfare in Victoria.
♣♣♣
Recent Presentations
Australian Historical Association Conference From Boom to Bust, at Federation University, Ballarat
'Ballarat's "difficult history"': Panel session to be chaired by Prof. Keir Reeves, Dr Cate O'Neill, Frank Golding, Ass. Prof. Jacqueline Wilson and one other. 8 July 2016. This session, a public event, was held at the new CAFS Legacy & Research Centre.
'Saving the Remnant Fabric: Contesting assessments of an orphanage heritage site', 8 July 2016.
♣♣♣
Ballarat Child & Family Services (CAFS) has officially opened it new Legacy & Research Centre.  See news of the Centre here. 
I presented a lecture at the Centre. You can listen to my speech and to speeches by others during the Heritage Weekend here.
I presented a paper at the International Institute of Social History, Valencia Spain, 30 March to 2 April 2016,  entitled:
'Mismanaging Expectations: the Dominance of Sexual Abuse' in a section of the conference entitled 'Framing Historical Child Abuse: Historical and Contemporary Issues'
Below is the abstract. 
Over the past decades in Australia, older Care Leavers and their advocacy groups have contributed to public and private pressure to establish a succession of formal inquiries about widespread and diverse forms of historical abuse and neglect in out-of-home-care. Care Leavers have been prominent in helping shape the public narrative that emerged from those inquiries and in developing policy directions for dealing with responses to the needs that have been identified. A culture of expectation has been created through formal apologies, history projects, memorialisations and a muddled and incomplete series of redress schemes. Current iterations of inquiries have, however, so filtered the public discussion that the focus has narrowed almost exclusively to sexual abuse. The wider forms of abuse and neglect have all but dropped off the public agenda. The questions that arise include: what are the processes, political and other, that lead to this residualisation of sexual abuse in Australia; and what are the consequences for survivors and more broadly for policy makers of downplaying physical and emotional abuse and other forms of abuse and neglect?
♣♣♣
Making Men out of Boys – Multiple Presentations
2015  is the centenary of Gallipoli and the 150th anniversary of the opening of the Ballarat Orphanage (or Ballarat & District Orphan Asylum as it was originally labelled). It is not surprising that I have been asked to present my research on the Old Boys of the Orphanage who enlisted in World War 1.
What is surprising is the number of times I have been asked to repeat the presentation. A successful presentation at the Ballarat Art Gallery in April led to others  in July, August, October and December – and update in Ballarat again in April.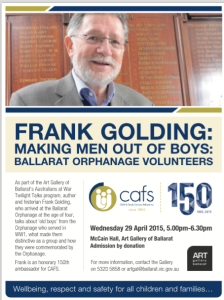 ♣♣♣
What is in the Files and Who Cares Anyway?
Dr Jacqui Wilson presented a paper with that title, jointly prepared by her and me  at Archives on the Edge: National Conference of the Australasian Society of Archivists, Hobart August 2015.
We will develop the paper further at the Monash University campus at Prato, in Italy in November.
♣♣♣
Latent scrutiny: Personal archives as perpetual mementos of the official gaze.
Dr Jacqui Wilson and I have just had news that a paper which we wrote together under the above title has been accepted for publication in the prestigious international journal, Archival Science. It will be published  early in 2016.
I include some details here.
♣♣♣
My Submission to the Royal Commission on Redress
After waiting patiently for my submission to be posted on the Royal Commission's website, and several letters asking what was causing the delay, it has finally appeared — six months after I sent it to the Commission.
In a letter of apology for what it called 'our very lengthy delay' the Commission's team leader said:
Unfortunately, your submission was accidentally overlooked when work was done within my team to prepare submissions for publication on our website. I apologise for this oversight.
My lengthy submission can be read on line or downloaded here.
But I stressed a number of points of principle which I hope the Commission  have incorporated in its recommendations – currently sitting with the Australian Government.  These are the key ones:
The Commission's broad definition of 'institution' stretches far beyond what Care Leavers normally associate with redress.

Moreover, people who spent their childhood in orphanages and other abusive out-of-home 'care' do not normally see themselves as survivors in the same light as survivors of abuse in the world outside of children's residential institutions. This is not to say that a child abused by a priest in the vestry or by a swimming coach in the change rooms or by a scout leader on camp did not experience insufferable harm. They obviously did, and were severely damaged by their experience; and their needs must be met.

But child residents were vulnerable in a qualitatively different manner. Placed in 'care' precisely for their own protection and nurturing, they were totally at the mercy of the very people who were entrusted to protect them.

When that trust was betrayed, they had no parents or local community to turn to. Those who fled through absconding (and there were thousands who did so) were systematically rounded up by the police and routinely returned to their abusers – with no questions asked.
The scope of the Commission's inquiry limited as it is to sexual abuse, if narrowly applied to recommendations for redress, is almost certainly destined to create a profound sense of injustice for those who suffer from other forms of life-defining abuse in their childhood.

Sexual abuse of children is not a stand-alone crime against children in 'care' institutions. It is part of a cluster of abuse that vulnerable children endured. The Hon Peter McClelland was right to remark recently: "When an institution provided residential care it is common to find sexual abuse accompanied by high levels of physical abuse and exploitation of the children's labour" (Address, October 26, 2014). He could have gone further to say that high levels of physical and psychological abuse engendered a constant fear of sexual abuse which many children witnessed as part of their institutional experience.
There is ample documented evidence of ferocious criminal violence, humiliation, deprivation of food and schooling, forced labour and medical neglect in residential institutions.

We must not lose sight of the need for redress for the immense suffering from those crimes against children simply because the public fury about sexual crimes against children pushes them off the public agenda. Some – but by no means all – who survived these other forms of abuse and neglect have already had their claims acknowledged and restitution paid through earlier redress schemes. It would be a grave injustice if a redress scheme were set up that did not extend to these other forms of abuse and neglect.
It may well be the case that the Commission cannot satisfy all interest groups and stakeholders.

I make the proposition that

the Commission's first duty – in a moral sense if not in a technical sense – is to survivors of abuse in children's residential institutions for they were the state's children, and of all the children the most at risk and the least likely to find support at their time of need, and since.
♣♣♣
Re-creation of the Ballarat Orphanage Arthur Kenny Avenue of Honour 
In the 150th year of its operations (first known as the Ballarat & District Orphan Asylum in 1865) Ballarat Child & Family Services (CAFS) has re-created the Avenue to commemorate the service of old boys of the orphanage who served in World War 1. 
With the backing of the City Council, a new avenue of 106 Algerian Oaks lines Fortune Street leading from Fussell Street towards the Mt Xavier Golf Club. This is about 300 metres from the site of the original avenue.
The avenue was officially opened by Maj. General Simone Wilkie an Honorary Ambassador for CAFS in its 150th Anniversary year. The planting coincides too with the Centenary of Gallipoli.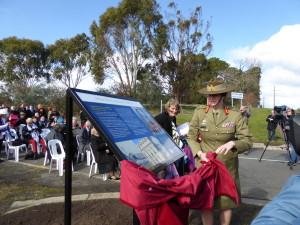 I was asked to provide some background to the history of the avenue and make some comments on the old boys. Unfortunately, about halfway through my speech, the skies opened tipping a bucket on the crowd of several hundred people (including students from two schools) and I cut my speech short.  I insert here what I would have said – together with some more photos.
Frank Golding's Speech at the Re-opening of the Ballarat Orphanage Arthur Kenny Avenue of Honour, 3 August 2015
Thank you, Greg Jacob, MC)]. Distinguished guests, ladies and gentlemen. It's so good to see family descendants here today.
I am happy to be here today as a former resident

of the Ballarat Orphanage where I lived for 11 years from 1943 to 1953. I well remember looking at the Roll of Honour to the 'old boys' who served in WW1. It hung on the wall of the Dining Room. We read the 93 names as we came forward in the queue to get our food three times a day.
I calculate that I would have looked at that Roll more than 11,000 times. Yet, strange to say, at that time—some of it during the 2nd World War—none of us knew anything about this Avenue of Honour. I'll say why in a moment.
I learned the story of the Avenue not as a resident, then, but as an historian coming back decades later to collaborate with a range of good people to prepare the re-Discovery event in 2012—which you can read about in the newly-revised booklet.
It's a story that began with a fund-raising idea—an Arbor Day on Crown land which the Orphanage leased here at Mt Xavier. It would raise money on the day—as well as produce a harvest of pinewood when the trees matured.
Quite late in the process, the Committee decided to create an Avenue of Honour as a tribute to the 'old boys' fighting overseas—although at the last minute, the Avenue was named in honour of Arthur Kenny, the Orphanage Superintendent, who of course was not a soldier.
The local papers reported that there were "more than 100" Orphanage 'old boys' at the War. But when the Governor-General, Sir Ronald Munro Ferguson, opened the Avenue in August 1917, only 78 'old boys' could be named.
We know that when people leave institutional 'care', they scatter far and wide. Only 36 'old boys' enlisted in Ballarat. Some were interstate; one enlisted in New Zealand; another was at sea with the Navy when war broke out and he was enlisted by default. So it was hard to get the names right when this Avenue was created. Some names were incorrect. Many names were missing.
Through the exhaustive research by Sharon Guy and myself we now have an accurate list: 105 'old boys' were accepted as volunteers of whom precisely 100 went overseas. Another was rejected on medical grounds but went to England as a civilian munitions worker. I'm happy to count him in as one of ours.
It was quite a day, 3rd August 1917, a gala occasion on which over 1,000 non-military dignitaries, politicians and donors were also honoured—some with as many as four trees planted in their name.
But, there was always opposition to it. Some argued that the Avenue of Honour Orphanage should not be allowed to alienate Crown Land. There were disputes over who should manage the land. When Arthur Kenny, the driving force, died in 1925, the Avenue of Honour was soon lost from public consciousness and gradually fell into disrepair.
This was a great pity because many of the boys did not have family to put their name forward when it came to memorials. At the grand Ballarat Avenue of Honour leading from the Arch of Victory, only one in every three of the soldiers who were 'old boys' of the Orphanage had a tree planted in his name. This dedicated Avenue here at Mt Xavier fills a gap for the many who were overlooked.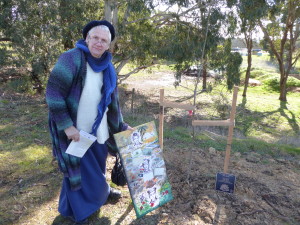 We know quite a lot about these Ballarat Orphanage soldiers. They were a remarkable group when you line them up against the 330,000 Australian volunteers of 1914-1918.
Consider their enlistment patterns. And remember that single men under 21 needed parents' or guardians' consent to enlist.
When they enlisted, some of the 'old boys' did not know the whereabouts of their parents. Only 10 of them sought consent from a parent—one refused.
33 of them gained the consent of guardians and next-of-kin—four of them from Orphanage Superintendent Kenny. There were some dubious 'guardians' and next-of-kin—including employers, siblings, friends, girlfriends even.
The rest gained enlistment through a mix of street smarts, fibs and aliases.

They did more than their fair share.

Just under 40% of all eligible Australian men enlisted in WW1, but more than two-thirds of the eligible Orphanage boys enlisted.
They volunteered far sooner and at a younger age.
A quarter of the Orphanage boys enlisted in the first phase of the war—i.e. twice the rate of other volunteers in the same period.

There were twice the proportion of Orphanage teenagers as other Australian teenage soldiers. They were very keen. Percy Lowen is a good example. He pitched a yarn to the recruiting officer. He was 18 years and 9 months old, he said. His parents were dead so he brought along a friend as next-of-kin to give consent. Percy fessed up in 1946 that he had been just 16 at the time. In fact, his birth certificate shows he was really 15 years and 10 months.

It's remarkable to think that, in 1914, there were 13 boys still living in the Orphanage who would eventually enlist by 1918 – including the last two – the 99th boy and the 100th boy – who only reached the first port of call when they were told the armistice had just been signed. So they came home without firing a shot—or being shot at.
War changes things for everyone.
The Orphanage Roll of Honour lists 16 'old boys' who died. But AIF records showed, sadly, that 20 died. 84 of the 'old boys' were wounded or hospitalized—much higher than the national rate.
But soldiers are never the only casualties of war. Research shows a very strong connection between children's welfare and war. This is a general point, not exclusive to the Orphanage men.
Apart from the loss of husbands, fathers, brothers, many families had to deal with soldiers' disabilities, alcoholism, violence, depression—undiagnosed PTSD.
Desertion and divorce rates increased rapidly; and numbers of children in out-of-home 'care' rose dramatically after the war.
The First World War created the next generation of children to go into 'care'—and many of these would go on to fight in the Second World War. Another story.
 We should not end on that somber note. The war gave some of our 'old boys' opportunities to show their mettle – and they did.
Three became officers and 13 became NCOs. Not bad going for young men from humble backgrounds.
Harry Reed was awarded the Military Medal for bravery in the field.
Some thrived after the War e.g. Pte William Prowse became a Life Governor of the Orphanage.
Up until now, some had never been acknowledged. But it's never too late to show respect. In this Avenue of Honour—re-discovered, renovated and about to be re-opened—we are remembering them!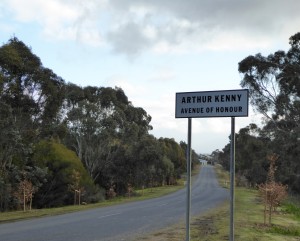 Photos by Frank Golding (except the Dining Room – courtesy CAFS)
♣♣♣
Life Time Membership
On Saturday, 4 July 2015, Jim Luthy and I had the very great honour of being made "Life Time Members" of CLAN (Care Leavers Australasia Network). My framed  Certificate reads:
CLAN extends its  appreciation and sincere thanks for your years of dedication – on a voluntary basis – advocating for Care Leavers and supporting their needs. Since joining CLAN in 2000, you have served as Vice President, Committee member and newsletter editor. We acknowledge your commitment to documenting the history of the Ballarat Orphanage boys who served in WWI, as part of CLAN's national project in commemorating Care Leavers who served in wars. You continue to be a strong advocate for justice and redress for people abused in Australian orphanages, Children's Homes and Foster Care.
You don't volunteer to work for organisations like CLAN in order to get Brownie points, but it is nice to be acknowledged and recognised for the work you do. Thanks CLAN.
Having been warned that I would be receiving an award, I prepared a speech which I will post on my Matters of Opinion page – here.
♣♣♣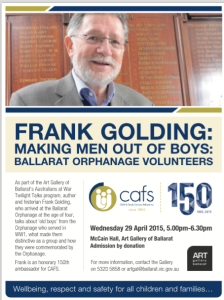 Ballarat Courier (25th and 27th April 2015): advertisement for my Twilight Talk at the Art Gallery, Ballarat on 29th April.
Australia at War Twilight Talks at Art Gallery of Ballarat in conjunction with the exhibition Australians at War, 1914-1945.
A series of twelve talks at the historic Ballarat Art Gallery in Lydiard Street, on Wednesday evenings from 8 April to 24 June, starting at 5 for 5.30pm (entry by donation, with wine and cheese served).
As part of the series, I have been invited to present a talk in the series on 29 April entitled  'Making men out of boys: Ballarat Orphanage volunteers in World War 1'.  I will talk about what made the  experiences of the 105 Orphanage 'old boys'  distinctive as a group, and how they were commemorated by the Orphanage.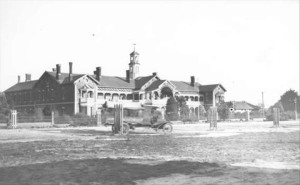 It is interesting to observe the changing tone in the Orphanage's Annual Reports as the year progressed.
1915 – We know of forty of the old boys who have enlisted. Some of them have been wounded and one has already given his life in his country's cause. Several of the band boys are in the bands of the various battalions. One boy received his commission as a lieutenant and one aged 20 has just left with the 400 permanent men as a serjeant artificer (Annual Report 1915)
1917 – Still more of our boys have left these shores to fight for king and Empire. Many never will return, having given their lives in the grandest work of all, defending their country and fighting for Right. Others have returned – some with limbs missing, others with health impaired. All, both those going and those returning, have managed to visit their old home and be either speeded on their way with good wishes or be welcomed home. We honor them every one. (Annual Report 1917-18)
1919 – It has been great pleasure to welcome back so many of the old boys who have been away at the front. Some have returned who have been in the fighting line from 1914 to 1918, some have gained commissions, some are maimed, others have lost their health, while still others seem to have gained by their experience. We welcome them all home again and it shows that they still love their old home and have happy memories and feelings of gratitude when they so uniformly return to visit it after their years of absence. Some have been away for as much as twenty five years returned to recount their adventures and experiences (Annual Report 1919)
This talk is independent of the 150th anniversary celebrations described above, but happily sits alongside those events particularly the re-opening of the Avenue of Honour in later in 2015.
Further information about all the Twilight Talks: from Peter Freund, M. 0407 501 818 | T. 03 5320 5138
♣♣♣
Care Leavers in Higher Education – where are they?
I gave a talk to the Equity Practitioners in Higher Education on 5 March on issues that confront Care Leavers who want to move on to university and TAFE studies.
This coincided with the launch of two publications:
The Final Report of a research report, Out of Care, Into University: Raising higher education access and achievement of care leavers, (Andrew Harvey and others, LaTrobe University, March 2015);
and
Against the Odds: Care Leavers at University, (edited by Deidre Michell and others, People's Voice Publishing, Adelaide, 2015) I give a brief account of the book here.
♣♣♣
Access to Care Leaver Records
I have been working away with a representative group around Australia on a set of protocols that might form the basis for agreement around the nation on how Care Leavers/ Forgotten Australians might get easier access to their childhood records.
Watch this space
♣♣♣
NEW
150th Anniversary – AMBASSADOR to CAFS
I have been invited to be an Honorary Ambassador for 2015 – a year that marks the 150th anniversary of the institution known variously as the 
Ballarat Orphan Asylum (from 1865)
Ballarat Orphanage (1909)
Ballarat Children's Home (1968)
Ballarat Children's Homes & Family Sevices (1984)
Ballarat Child and Family Services (CAFS) (1999 to the present)
On 20 February 2015 the Ballarat City Council hosted a Civic Reception to mark the opening of what will be a busy round of events to celebrate the milestone.
Of course, some would not use the verb celebrate because their experiences in the institution were far from cause to celebrate.
On Monday, 23 February, the Ballarat Base Hospital "re-gifted" to CAFS a set of 7 paintings that once hung on the walls of the Toddlers Block of the Orphanage. Many of us have fond memories of these quirky paintings that helped enliven what was often a depressing day at the Orphanage. Deb Findlay and I were given the honour of unveiling the paintings.
Here's a sample. They are all on  display at Ballarat CAFS.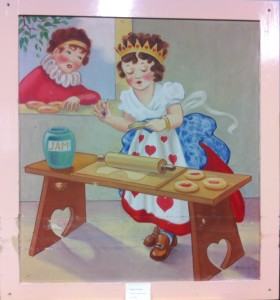 Other events in 2015 include
Past residents reunion & dinner, 27-29 March
Opening of the World War 1 Avenue of Honour and replanting of 105 trees to commemorate the service of old boys of the Orphanage, 3 August
Opening of a Heritage Centre at CAFS, 8 December.
♣♣♣
UPDATE: "Human Rights and Memory"
I am not able to insert my PowerPoint presentation  at the University of Lund, 3 December 2014 but, if you want a copy, please contact me and I will email it to you.
My colleague and co-author, Dr Jacqueline Wilson, was not able to attend but the presentation was based on our joint chapter to be published in the book mentioned below.
However, I can make available a longer paper I presented at a workshop on the day before the Conference. You can download and read the longer speech here.
♣♣♣
Overseas Conference: "Human Rights and Memory" 
I have been offline for a while travelling via Hong Kong and the UK to a major conference in Lund, Sweden.  The conference starts on 4 December but will be preceded by a workshop (see below) .
I will be part of a team of authors at the conference introducing their chapters of a book, In the Midst of Apology, to be published shortly by Palgrave Macmillan. Dr Jacqueline Wilson and I wrote a chapter about the importance of Care Leavers and historians challenging the official versions of Care Leaver history as found in Annual Reports, institutional histories and in the countless case notes and so-called personal records.
On the day before the main conference, I will present a paper at a workshop on the uses of history in relation to historical child abuse and neglect.  The workshop is a for a network of some 60 historians and related professionals from 14 nations. They share knowledge about inquiries, apologies, and redress processes in various countries around the world.
My paper will ask: "What more can we do?"  As I type this, I am making good progress on completing my paper at the wonderful British Library (near King's Cross-Euston Station in London).  However, at this point I can say that among my answers to the question will be to work on better understanding of:
why the recommendations of many previous inquiries were never implemented – and therefore why we continue to make the same old mistakes as if they were happening for the first time
why, after such a long silence about child sexual abuse, has it now come to dominate royal commissions and media coverage?
how to avoid the trap of reducing child abuse and neglect to sexual abuse alone at the expense of other damaging forms of abuse and neglect
the importance of historians adopting a wider audience – in fact, seeing Care Leaver survivors as both audience and clients of their historical research
and, one step beyond all that, having historians see Care Leavers as colleagues who bring important new perspectives to historical research.
Watch this space for more detail after the workshop and conference.
♣♣♣
"ONCE MY MOTHER" FILM SCREENING & PANEL DISCUSSION
The Australian Broadcasting Corporation (ABC) will be screening the film, Once My Mother, Sophia Turkiewicz and Rod Freedman's multiple award-winning feature documentary, on Sunday 26 October, at 10.20 pm – hardly prime time!
A screening followed by panel discussion and Q&A session with Sophia Turkiewicz was  presented by the University of Melbourne's School of Historical and Philosophical Studies, on Thursday 16 October.
UPDATE 17 October 2014
The screening last night was a huge success – and the panel discussion afterwards rolled on well after the scheduled closing time (8.00 pm) . About a dozen people carried on to dinner and as I was leaving at 10.45, some were still hard at it.
It was good to hear the responses to the film by a range of people from various perspectives.
I was asked to respond from the point-of-view of a person who spent time in orphanages – as was the case of Sophia Turkiewicz, the Director and Scriptwriter. Sophia answered questions and received comments from the audience.
Here are my notes about seeing the film: 
Commentary by Frank Golding 16 October 2014
Thank you for inviting me to experience again this astonishing, honest, and beautiful film. At first, I thought the story would be far removed, geographically and psychologically, from my own family story. Now I find a great deal in the film that connects.
First, the separation of the child from her mother – and all the baggage that goes with it: the utter depths of abandonment, the raging anger, the dried-up grief, the brooding about the betrayal of the person you thought you could most trust.
Sophia and I are among the half a million Australians who were separated from their families in the twentieth century surviving in orphanages and other children's institutions, or in foster care. Only a minority were ever legally orphans. Most of us were 'orphans of the living'. We were either taken from our families by welfare officers or the police, or we were placed in 'care' (always in ironic quote marks) by parents who were unable to keep us.
I was two years of age when I was first abandoned by my parents (with one of my two older brothers) and made a state ward. I was then released on probation to my mother for a year. Not long after, I found myself charged again with neglect; and so began ten very long and painful years in the Ballarat Orphanage, until I was 15. Not once in all that time did anyone explain why my parents were not able to have us. And I lived with the scars of that grievance for decades.
Like Sophia, I heard my mother say, 'I'll come back and get you one day'. And like Sophia, I sat and waited, and waited some more, watching for the tram that would bring her back. Eventually, like Sophia I lost faith in my mother – and in my father. I stopped believing. Unfulfilled hope hurts too much in the end.
When our reunion did eventually occur it was not easy to forgive. Maybe the elastic bands of kinship had stretched beyond snapping point. How could you know the persons who had given birth to you when they had so forsaken you? Is it possible to be a good son when you have so much forgive?
My mother's consistent refusal to speak about her history, our history: was that her way of saying, 'I'm ashamed of my failure to be a mother to you all the years of your childhood'? I wondered whether her relentless sadness was a silent plea for forgiveness that they had left us in that hellhole all those years while they…did what? Who knows?
'I'm losing the woman who was once my mother,' Sophia says. That moment in the film takes me back to my mother's last years and her long sad days of shuffling daily from her bedroom to the kitchen – and back to the bedroom as soon as it got dark. Waiting for the end of her sad life.
I think of the bitter-sweet exchange between Helen and Sophia as their roles are reversed with the passing of the years:
Sophia: 'You put me in the orphanage…'

Helen: 'Then, when you grew up, you put me in an orphanage…'
We did our best to ease our frail mother's dying pillow in her own home, honouring her wish not to be put in a home for the aged. Yet, when I became an orphan finally in 2003, at her graveside I spoke for ten minutes about her life; but knew I had nothing of real substance to say.
It was in that moment that I resolved to know the truth about my mother's sadness. Unlike Sophia, mine was not an arduous geographical voyage, tracing strands of global history in foreign countries. But getting access to the files in Australia about my parents has been a rough and stormy journey.
I was gratified to find records of my parents pleading repeatedly with the authorities for the return of their three boys. My anger shifted to the petty bureaucrats and their contemptuous references to my parents' 'irregular domestic situation' – they were not married – and the conclusion that they would therefore not provide 'a sufficiently reasonable moral environment to justify' a family reunion. Yet they turned a blind eye to the violence and sexual abuse that was common in our substitute 'care'.
I had interpreted my mother's reluctance to talk about her childhood as a way of shielding us – and herself – from our painful childhood in the Orphanage. I was only partly right. There was much more to it than that.
The archives are closed to prying eyes, even of kin, but I wanted them opened. I was warned by Justice Harper of the Supreme Court
the information may not be pleasing…save for such satisfaction that may come from having the relevant knowledge where before there was mere speculation. But it is for them [the descendants] to decide whether they wish to take the risk that what they may discover may disappoint.
This was the turning point in my search. Like Sophia's search, I discovered a remarkable story. Like Sophia (without her gift for compelling narrative), I am reconstructing the story that explains the deep pain that ached in my mother's childhood. It's a story that stretches back to 1865 to Edward Sinnett, my mother's father's father, who at the age of 11, was abandoned by a mother intimidated by Edward's brutal stepfather.
In turn, Edward's son, half crazed by the brutality of the trenches at Gallipoli and the Western Front, wreaked havoc on his family, believing irrationally that his first-born, my mother, was his only true child. My mother met her father for the very first time after the 'Great War'. He was – unlike Sophia's delighted father – a tormented brute. He so humiliated his wife that she was forced to relinquish three babies in quick succession. Two of the babies, my mother's sisters, were abandoned to the very same Ballarat Orphanage. One lost her life there. Not only did my mother suffer the sudden loss of three little sisters, she experienced the shock of finding that the father she so yearned for during the war made her, too, hang by the fingernails over a chasm of fear.
Had I known all this at the time I'm sure I would have had a more loving relationship with the woman who was once my mother.
♣♣♣
View the trailer and other information about the film here 

Other Panel Speakers: 
Dr Erminia Colucci is Research Fellow at the Global and Cultural Mental Health Unit, Centre for Mental Health, School of Population and Global Health (University of Melbourne), where she currently is the coordinator of the Melbourne Refugee Studies Program.
Alexandra Dellios recently submitted her PhD in History at the University of Melbourne.
Dr Julie Fedor is Lecturer in Modern European History in the School of Historical and Philosophical Studies at the University of Melbourne.
Dr Malgorzata Klatt is Lecturer at the University of Melbourne, where she has been teaching postgraduate subjects in Master of Education Policy (International) and Master of Teaching.
Dr Cate O'Neill is an historian from the University of Melbourne's eScholarship Research Centre. She is the national editor and research coordinator of 'Find & Connect' (www.findandconnect.gov.au), a web resource about the history of children's institutions in Australia.
Sophie Skarbek was born in Poland before the war and exiled to Kazakhstan with her mother, brother and aunt in April 1940. Her father was killed at Katyn. After ten years as a refugee, she arrived in Australia in 1950, where she later trained and worked as a psychologist.
Sophia Turkiewicz has worked as a freelance drama director in film and television for over thirty years. Her credits include the feature film Silver City, which was released internationally in 1984 and won 3 AFI awards.
♣♣♣
Lecture: History of Childhood
I gave a lecture to 3rd year History students at the Australian Catholic University on 17 October.  The students are taking a semester unit on the history of children, so it's not hard to guess what my topic was!
The students seemed to be very interested. I enjoyed my presentation! (LOL)
♣♣♣
ANOTHER UPDATE:  Ballarat Orphanage Heritage Protection
SUCCESS!  SUCCESS!
At the Victorian Civil & Administrative Tribunal (VCAT) today (17 October 2014), Counsel for the developer, 200 Victoria Street Developments Pty Ltd, announced that he had been instructed by his client not to proceed with the appeal against the Ballarat City Council's decision to prevent the demolition of the Orphanage School House.
Unless there is a totally irrational and unjustified intervention by the Minister for Planning, that brings to an the end the long struggle by former residents – supported by Ballarat friends like Brett from Ballarat Trades and Labour Council – to save the last remnants of the former Orphanage from the wreckers.
Previously, I had reported that:
The long struggle to retain the remaining buildings of the Ballarat Orphanage came to a climax last night (23 July 2014).  Along with other former residents and staunch supporters we have made submissions to, and attended hearings at Heritage Victoria, VCAT and a Departmental Planning Panel to advise the Ballarat City Council.  The old Toddlers Block (1929) will be adapted as a medical centre. The brick wall, the memorial garden and heritage trees, and various plaques and foundations stones will all be saved.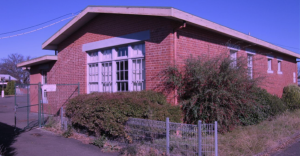 The old School (completed in 1921, pictured above) was the last sticking point.
Finally, the Ballarat City Council voted by a majority of 7/1 to ban the demolition of the old Ballarat Orphanage School. The developer's weak attempt at a compromise – to preserve the front two rooms and attach them to a new supermarket – was rejected.
The struggle to prevent demolition had started in October 2011 when a small group of us presented a case to the Heritage Council of Victoria which rejected our claim that the School was of State  heritage significance but rated it as of local significance and recommended to the Ballarat City Council that it should be protected.
It remains to be seen whether the developer will exercise his last remaining options: (a) to re-open an adjourned appeal to the Victorian Civil & Administrative Tribunal or (b) to make a direct appeal to a developer-friendly Minister for Planning (sic) who has the power at a stroke of a pen to overturn the Council decision in favour of the developer.
The outcome last night is a victory for the group of former residents and their supporters (including the admirable Ballarat Trades and Labor Council) who marshalled their limited resources against the power of the big end of town. We never gave up even when we feared the worst – and even when it appeared we had been shafted by those who betrayed our trust.
Read the local newspaper's short account here. But know that the back story is far more complex.
♣♣♣
ROYAL COMMISSION: my written submission to the Royal Commission on the Institutional Handling of Child Sexual Abuse is now available on the Royal Commission's website  here.
I give a short list of my key points here.
There are 78 written submissions posted on the Royal Commission's website in response to a paper on the issue of redress. You can read them here.
♣♣♣
RELATED: Victorian Parliamentary Inquiry into Chid Sexual Abuse   My 2012 submission can be downloaded (along with many others) here.
♣♣♣
Presented a paper called "The Child Welfare Treadmill: generations of institutionalisation", at the Australasian Welfare History Workshop, Hobart, February 2014. Read
Also presented at the 

Genealogical Society of Victoria  

(podcast available to GSV members)
And a session for Social Work Students at Monash University  in May
And two sessions at the 

University of the Third Age

, Deepdene in June.