This is the inaugural Frank Golding Lecture presented at the Official Opening of the Legacy & Research Centre at Ballarat Child & Family Services (CAFS), 7 May 2016
I solemnly swear to tell you the truth and nothing but the truth about the history of the Ballarat Orphan Asylum (born 1865) and its child, the Ballarat Orphanage (born 1909) and its grandchild, the Ballarat Children's Home (born 1968). But I can't swear to tell you the whole truth. History can never tell the complete story. On the one hand, there are too many events to choose from. On the other hand, only a highly selective slice of life is ever recorded.
To illustrate, let me take you back 50 years to 1965 when the Orphanage was 100 years old. The Board of Management commissioned Ethel Morris to compile an official history to mark the centenary. For many, Morris's A Century of Child Care[1] is the definitive history of the first 100 years, but to a reader who was a child resident it is a perplexing publication. Her institution seems peopled almost exclusively with adults. They are mentioned by individual names 240 times: I've counted them. Board or committee members (100 times); staff including honorary medical and other professionals, teachers, volunteers and managers (82); eminent visitors (35), and financial benefactors (23)—although the three 'Chinese' donors and the 'poor widow who set aside proceeds from the sale of eggs each Sunday' remain anonymous.[2]
By contrast, Morris mentions fewer than ten children by name, several of them former residents who had done well and left generous bequests. We also learn that three boys gained scholarships and a girl graduated as a trained nurse—but they are nameless and we learn nothing more about them. We learn that the boys' band was often successful but the praise goes to the bandmasters. We learn that the boys made lots of sturdy boots, were handy on the farm, and later made good soldiers for King and Country, and that the girls made excellent clothing and bedding. The eminent visitors who came to brighten the children's lives (for an hour or two) are mentioned, but there is nothing about the daily life of children—the rowdiness, the fights, the collective laughter, the sirens that marked the routine of repetitive days and nights, the queues for porridge, rabbit stew, or laxatives. Nor is there anything about how the children coped with feelings of being abandoned and not wanted, and the harsh punishment meted out by untrained and overworked staff.
Throughout this history, which is based almost entirely on picking highlights from the Annual Reports (which were themselves a selection of events each year), not a page is turned that does not mention funding, buildings and facilities. It is reasonable to conclude that the publication was written primarily to impress benefactors and appeal to potential donors. Every historian has a particular life experience, a point of view and a purpose when selecting and interpreting the events they write about. In that sense, no history can ever be entirely neutral.
More recently, a pair of histories of the institution was written in 2011 for a completely different purpose, and it shows. Defending a preservation claim by former residents of the Orphanage at Heritage Victoria, Victoria Street Developments Pty Ltd commissioned a history as part of a Conservation Management Plan.[3] A few months later, Ballarat City Council commissioned its own history as part of a heritage assessment of the site[4]. Both versions were then used in a series of contested sessions at Council meetings and at the Victorian Civil & Administrative Tribunal in 2013-14. No prize for guessing that the history the developers paid for stressed how the building fabric that was then still on site had been changed beyond recognition and therefore should be demolished—with the exception of the 1929 Toddlers' Block (which the developers intended to recycle as a medical centre). The Council's version of the history was more nuanced because former residents and their allies including the Ballarat Trades Hall Council had lobbied them to retain the school. The Council's historian found that the 1919 schoolhouse had significance, whereas the developer's historian said it had no heritage value because its roofline had been altered.
The brick wall facing Stawell Street stands as a powerful testament. For one of the hired historians, the wall has this significance:
the pier-braced brick boundary wall to Stawell Street runs for approximately 100 metres, and most of this is in a weathered variant of Yorkshire bond with three stretchers separating each header. The wall was evidently punctuated by a gateway, as there is a clearly 'filled-in' part with much later brick and a dip in cornice height of about 30cm. This section is about 10m-wide in stretcher bond.[5]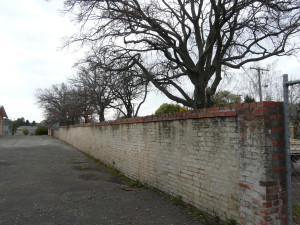 I think of all those children who experienced the wall in other ways. I was one who sat on the wall facing the spot where the tram terminated at the Orphanage corner, hoping and yearning to see one of our parents alight. The weeks turned into years before, one day, our father did step off a tram—and after he had gone, Superintendent Morton told me he would not be allowed to visit us any more if he upset me again. The wall survives today—and I would never think of it as 'a weathered variant of Yorkshire bond'.
Just as Ethel Morris was fixated on funding and facilities, these later histories share a fixation with the bricks and mortar. None of these writers seemed capable of seeing the history of the Orphanage as the story of the thousands of children who lived in that place.
§§
Those of you who grew up in a 'normal' family will have a deep-seated sense of continuity, of belonging to a family story which reaches back into the past. Your story comes from direct experience and family anecdotes told around the dinner table, being spoiled rotten by proud grandparents at Christmas and birthdays. You have photograph albums and family memorabilia tucked away in shoeboxes under the bed or on top of wardrobes which you can retrieve any time you feel like it. It's not like that for Orphanage children. Mothers' Day will be observed quite differently tomorrow for those of us separated from our mother when we were children. Many of us who have looked for a family narrative in our official childhood records have discovered that files were written for a particular purpose and audience—and that certainly was never intended to be the child or the adult the child would become. In some cases what was recorded is painful to read not only because of what was recorded as fact when it was inaccurate, but also for the disparaging slander about parents that freely littered the files. In other cases the story is woefully inadequate with long gaps in time when nothing was recorded and an overall lack of crucial information such as medical episodes, or educational achievements, or any record of family visits.
An abiding memory:
In those cold dormitory mornings when I was 4 and 5 and 6 and 7, the siren shattered my recurring dream of my mother. Where was she? Was she sick or dying? Was my dad away at the war? When were they going to come and take us home? Why wouldn't anyone tell me? No one answered.
For decades those unanswered questions itched like scabs that would not heal. I needed to understand why healthy, intelligent parents would separate from their children, or put them into an orphanage. I would have to re-construct my childhood, starting with what documents survived in the archives and CAFS and in the state ward records held by the Department in Melbourne. In those archives I found vital clues that gave the bloodhound in me a scent to follow. Yet those records were only fragments of the story and could only hint at the astonishing story that would emerge from my quest.
I was to discover that my family has a long and intimate relationship with the Ballarat Orphanage at 200 Victoria Street. My mother's grandfather, Edward Sinnett, could have been its very first inmate when it opened its doors for children in October 1865. He was a Ballarat boy sleeping rough on the streets among the growing band of 'waifs and strays, street Arabs and youthful Bedouins'.[6] But just a few months before the doors of the Ballarat Orphan Asylum opened for the first time, he had already been sent to the Melbourne Industrial School. In 1865, the year the Ballarat Orphan Asylum opened, Edward was the 707th child rounded up by the police and incarcerated in makeshift accommodation in Melbourne.[7] Edward was aged 11 whereas three-quarters of these children were under the age of ten. I know my great grandfather was the 707th of the 868 children because they were given a registration number in order of admission—and the sequence continued up to 1962. In 1940, I became ward of the State of Victoria number 66852.[8]
Why was young Edward in trouble? The short story is: his stepfather was a violent brute. When Edward was seven years old, his stepfather was charged at the Police Court at Geelong with battering Edward black and blue. Edward's mother hesitantly confessed to the court that her new husband was knocking her about too. Despite the evidence, the magistrate issued a simple caution, and Stokes strolled home a free man with his wife and stepson two paces behind. Six months later, Stokes placed an advertisement in the local newspaper offering a £1 reward for the return of his stepson.[9]
Immediately above this notice was another advertisement offering a reward of £10 for missing horses plus £5 for information leading to the conviction of the thief.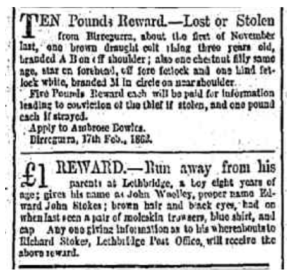 Stepfather Stokes used Edward as an unpaid labourer, and thrashed him regularly. When the family shifted to Ballarat, he ran away and lived off his wits on the streets. It was only a matter of time before he was caught committing an 'instance of juvenile depravity'–namely stealing a watch. [10] The sympathetic owner shed a tear of sympathy and withdrew the charge. The police returned Edward to his mother and stepfather with a stern warning to mend his ways.
A year later he was in court again. The local paper, the Ballarat Star, gave this report [11]:

Strictly speaking, Edward was not charged with the crime of vagrancy, but with its juvenile equivalent—being a neglected child. Under the new Criminal & Neglected Children's Act 1864, if the parents declared they were unable to control their child, and agreed to pay maintenance (in this case 3/6d a month), the child could be put away. The magistrates sentenced Edward to four years in the Melbourne Industrial School then situated near Princes Bridge on the Yarra River. He eventually served five years—the extra year was for, you guessed it—absconding.
Had its doors opened a few months sooner, the local Orphan Asylum may have been a much better option for Edward, but he would have been disqualified anyway because the Orphanage governors would only accept 'the Orphans of honorable parents in contradistinction to those Institutions established for the reception of the criminal and abandoned'. Our Orphanage would be very vigilant about 'legitimacy, morals [and] respectability'. [12]
I don't have time today to deal with Edward's terrible life spent in the several reformatories including two unseaworthy hulks, the Sir Harry Smith and the old battleship, the Nelson, moored off Williamstown, but I'm sure those lost years affected his view of the world and how he raised his children. I wonder if his life—and those of his children and grandchildren—would have been different had he become an inmate of the Ballarat Orphan Asylum?
I would love to have time to tell you about Samuel alias Henry, Edward's oldest son who followed his father into juvenile detention, but I'd rather talk about his brother, William Francis Salvador Sinnett, my mother's father, because of the close connection to the Ballarat Orphanage.
Bill Sinnett was 20, and married just a few weeks, when he sailed to join the Great War in 1915. Like many young men, he paid an awful price; and so did his family. David Stephens is right to remind us that, 'Ultimately, what is important is not what our fathers and grandfathers did in war but what war did to them and to us.'[13]
Bill Sinnett was wounded twice and buried in the trenches only to be pulled out, dusted down and sent back into the fray. He came home to Ballarat with one leg shorter than the other and severe emotional damage. While he was away—for nearly four years—my mother, Frances, was born. That was expected, as his wife, Permella, was three months pregnant when he sailed to the front. However, to come home and find his wife with another 6-month old baby was a shock. Baby Jean was what that generation called 'the living issue of unlegitimized sexual union'.[14]
Bill never recovered from the horror of war or from the personal betrayal at home. And his family was mortally wounded. He and Permella tried to make a go of it, but as the documents archived by the Supreme Court show, their relationship was punctuated by violence and alcoholism. To keep the peace, as the County Court archives show, Permella was persuaded to give up baby Jean to a family named Walls.
The next year Permella had another baby, Minnie, but Bill refused to believe that he was the father—because she was a girl! In desperation, Permella was again convinced to relinquish baby Minnie to another family, the Greens. Then came baby Joyce but things did not improve. Finally, when Bill refused to pay for Permella's hospital bills for the birth of his baby son Frank or to have anything to do with him, Permella took out a court order for maintenance. He promptly cleared out, and the police could never find him.
After the mandatory three-year delay, Permella petitioned for divorce. Just before the case was due in court, Permella took a late-night journey to the countryside with friends. In the pitch black, their car plunged into a creek near Cressy and young Frank was thrown into the water. They searched frantically in the dark, but his little body wasn't found until the next morning. The coroner's inquest extended over two days, and as if that was not enough to contend with, her divorce case was heard in court in the middle of that process. In the turmoil, Bill's mother, Alice Sinnett, took control of Joyce, now aged five. Unilaterally, she decided, to place Joyce in the Ballarat Orphanage.
Permella's ex-mother-in-law may have been convinced that Permella was in no fit state to care for Joyce—or not a fit person. The Orphanage must have discussed the matter with the grandmother and her sponsor Mr Sprott of the Ballarat Town and City Mission, but the entry in the Orphanage Admission Book gives no reason for admission to the institution. That was unusual. Alice registered herself and Edward as Joyce's grandparents and said they were her nearest living relatives. Alongside the mother's name, was entered just 'Permella'—no surname and no address.
Joyce was now the third generation of her family to be a 'client' of the Welfare system; but she was the first of the family to enter the Ballarat Orphanage—and she would not be the last.
The following year 1927, Bill Sinnett's sister, Lilly (my Great Aunt), died of pneumonia. Her husband, Stephen Coombes found it impossible as a widower to raise their six surviving children. He relied on the oldest child, Alma, who was then aged 16, to look after William (13) Nellie (10) Sydney (8) Alfred (5) and Victor (3) but it was all too much for her. By February 1928, Stephen felt he had no other option but to put the five youngest children into the Ballarat Orphanage.
Stephen Coombes had never known his niece, Joyce Sinnett. He had lost connection with that side of the family during the years of turmoil. The Coombes children did not know their cousin either. It is astonishing to contemplate Joyce Sinnett and the Coombes children sharing life in the Orphanage together with the other 200 children, but not knowing they were biological family.
It was even more astonishing to me to discover records about a ten-year-old girl, Marie or May Green (both names were used in the files), who joined Joyce Sinnett and her Coombes cousins in the Orphanage, nearly two years later. Marie or May was none other than Minnie Sinnett, Joyce's older sister. Joyce and Minnie knew nothing of each other—Joyce had not been born when Minnie was handed over to the Greens as an infant. And neither Minnie nor Joyce knew the Coombes children. So now we have the two sisters and five cousins rubbing shoulders day by day in the Orphanage without knowing their kinship relationship.
Why did her foster parents, the Greens, place Minnie/Marie/May in the Orphanage? They told the Orphanage that they could not look after her because they were in bad health, but other evidence suggests they were victims of the so-called Great Depression. In 1933, after leaving Minnie in the Orphanage for four years, the Greens returned to rescue Minnie. She was nearly 13. Did she nurse suspicions—as others like her did—that she had been rescued because she would be able to go to work and help pay the rent? I imagine the Greens found Minnie a difficult teenager. In her eyes they had deprived her of family life, abandoned her to barrack-style institutional life where she was starved of love and affection.
When Minnie started work at the Sunnyside Woollen Mill in Ballarat, her oldest sister Frances, who would become my mother, worked there too and recognised her long-lost sister. She tapped Minnie on the shoulder and said,
'You don't know me, but I'm your sister. If you want to find out who your real mother is, here's the address.'[15]
§§
I will leave Minnie and her mother for a moment and go back to Joyce Sinnett. In Ethel Morris's centenary history, she frequently gives us the names of adults connected to the Orphanage who died. There are 45 such individuals named. By contrast, in the 100 years she covers, she mentions only six children who died—and never gives us their names. That means she doesn't mention Joyce Sinnett, my mother's sister. Sadly, Joyce's 12th birthday was her last. She died in August 1933. The death certificate said osteomyelitis, a bone infection. There was no inquest, but her death was probably caused by a serious injury that was neglected by the Orphanage staff.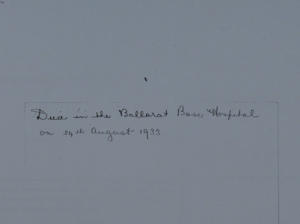 Not bothering to notify the family or to place a notice in the newspapers, the Orphanage buried her hastily. The undertaker, George Ludbrook, was the father of the Orphanage superintendent. The Orphanage knew from their admission records that Joyce's mother was Permella. But the death certificate names her grandmother, Alice Sinnett, as her mother. A word of warning to family historians: never trust even official records. Check everything.
Joyce is one of 26 children in the Orphanage's mass grave at the Ballarat New Cemetery. They were all anonymous until 2008 when CAFS refurbished the gravesite and erected a respectful plaque listing all their names and ages.[16] Thank you CAFS.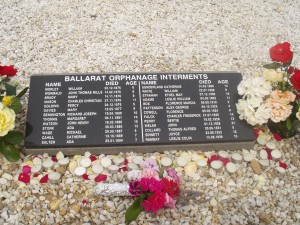 §§
Meanwhile, as mentioned earlier, Minnie Sinnett had found her way back to her mother. Permella had remarried (to John Marone, a former resident of the Orphanage as it happened) and had two new children. Permella had not anticipated how bitter the anger of an abandoned child could be. Her new husband was no help—his drunkenness and frequent arrests for disorderly conduct and vagrancy made matters worse. Making the most of new-found freedom, Minnie was slipping out to meet a boy from work and returning in the wee small hours through her bedroom window.
At her wit's end, with her husband in gaol and no one else to turn to for advice, Permella asked the police to give Minnie a stern talking to. But once the police recognised the Sinnett family as 'clients', they took control and charged her at the Children's Court in Ballarat with being a neglected child, as her grandfather had been in 1865—and as I would be, some years later.
Things did not go well for Minnie. The magistrate was told that her mother was 'On Sustenance' (the dole)—a failing in the genteel mind. By contrast, the police told the court that her stepfather was 'of sober habits'. How could that be so? Remember, at that moment, Jack Marone was in gaol. The police alluded to Minnie's record of having been an inmate of the Ballarat Orphanage for four years as if that should count against her. She was 'said to be pregnant probably six weeks.'
Had a girl like Minnie come from a 'better' family, discreet arrangements might have been made for a quiet holiday out of town. In Minnie's case, the magistrate declared her 'a neglected child lapsing into immorality…' and she was declared a ward of state—at nearly 17 years of age. She was sent to the Oakleigh Convent, or Girls' Reformatory (now the site of the car park at the Chadstone shopping complex).
Soon after she was born, Minnie's baby daughter was committed as a ward of state, too, charged with the now common family crime of 'being without sufficient means of support'. She was then fostered out to an anonymous family. The original birth certificate was sealed and a new one issued. Minnie was never to know the identity of that family who raised her baby.
A few years ago, I thought I had found Minnie's long-lost daughter when I made contact with a long-lost cousin, Lorraine. She told me she was the oldest of Minnie's five children and they had looked after their wonderful mother until she died in 2007, just four days before her 87th birthday. Minnie had told her children almost nothing about her harsh early life, or her time in the Ballarat Orphanage, or her teenage pregnancy, and so on. They never suspected that their strict mother had been a 'wayward' adolescent.
Two years after Minnie died, Lorraine had a phone call that went along the following lines.
'Hello. My name is M…I hope you don't mind, but I got your name and address from your mother's death certificate. Our mother's death certificate, actually. I'm your mother's oldest child.'
'No, you can't be; I'm the oldest child.'
'No, our mother was forced to give me up when I was three weeks old. I've been searching for her for many years.'
There was no fairy-tale ending for Minnie and her baby girl, no meeting between mother and daughter who had lived separate lives for 70 years. I try to imagine what they would have said to each other if they had met.
§§
It is only through the reconstruction of my family history over the years that I have come, too late, to appreciate the ordeals my own mother confronted as a child and how they influenced the way she constructed her view of the world. And how, in turn, that affected us her children.
She did not meet her soldier-father until she was three and a half. And he turned out to be post-war traumatised and irrational.
As a child she witnessed years of intense family turmoil.
She saw her mother forced to give up her three baby sisters, one after the other.
She saw her mother go off one night with her new baby brother only to return alone the next day.
She was bundled from school to school in Ballarat, one apprehensive step ahead of her angry, vengeful father.
Her mother married again, but the new stepfather was another alcoholic tragic.
Her sister Minnie was barely back in the fold when she became pregnant, and the welfare system raced her off along with the child she bore.
I wonder if I would have had a different relationship with my mother had I known that her childhood was one of unremitting, remorseless loss?
Then when it was my mother's biological turn to be wife and mother, another war intervened, and she chose the men in her life as badly as her mother chose her men before her. Is it just weird coincidence that she married a former resident of the Ballarat Orphanage—as her mother had done before her? Is it just coincidence—like her mother before her—that she hitched up with an alcohol-fuelled man determined to use her children as pawns? Is it just coincidence—like her mother before her—that she was forced to relinquish her children to the welfare system?
§§
Edward Sinnett could never have envisaged when he stole a watch in the 1860s and ran away from his stepfather that he would be the first in a long line of his family to become Welfare children. Today, I have presented a short version of a much longer narrative. By trawling a variety of archives and cross-examining living eye-witnesses I have found, over five generations, some thirty children in my family in what we now call 'out-of-home-care'. Altogether, children of the Sinnett family have spent time in sixteen different facilities run by government, churches, or charities in Victoria.
We can learn a lot from stories like this. We can, if we choose, fixate on the personal failings of individuals or inadequate families. Members of the Sinnett family certainly had shortcomings. But that line of thought explains very little about the social conditions in which parents make heart-breaking decisions.
We need to know the story behind the story. Misery dogs the lives of those who, with little schooling, find themselves trapped in long-term unemployment, unstable accommodation, grinding poverty and enmeshed in warfare and domestic violence. These hardships place unbearable pressures on families. In the absence of support, many did not have the resilience in a crisis to survive and to nurture their families. And, sadly, agencies like CAFS are just as important today as places like the Ballarat Orphanage were for my family.
It's great to learn that this new Legacy & Research Centre will put the histories of children and their families front-and-square in its work. In doing so, it will enable many more former residents to piece together the stories that help them make sense of their childhood and the circumstances that led to them growing up without their family and, as I have been able to do, to become re-connected to their wider family. I wish the Centre every success.
§§
References
[1] Ethel Morris, (1965) A Century of Child Care: the Story of Ballarat Orphanage 1865-1965, Ballarat: Ballarat Orphanage Board of Management).
[2] Morris, 1965, p. 7.
[3] Lovell Chen, 2013
[4] David Rowe (2012) Heritage Assessment of the Former Ballarat Orphanage, Geelong, Authentic Heritage Services Pty Ltd (revised 2014).
[5] Lovell Chen, 2013: A30.
[6] Ballarat Star, 24/2/1864: 4.
[7] Report of the Inspector Industrial Schools, 1867: 3-5; and Argus 13/7/1867: 6.
[8] VPRS 4527.
[9] Geelong Advertiser, 3/3/1862.
[10] Star, 24/2/1864: 2.
[11] Star, 28/1/1865: 4; 31/1/1865: 4.
[12] Ballarat Orphan Asylum, Annual Report 1866: 12.
[13] David Stephens (2014).
[14] Kammerer, 1918.
[15] Personal Communication, Lorraine Read, May 2014.
[16] They were not the only ones; other children also died there (Argus, 1921, p. 8; Argus, 1941, p. 4).